Rolling bearing accessories
Rolling bearings can be mounted on shafts and in housings in various ways. Often adapter sleeves or withdrawal sleeves are used in the applications so that the rolling bearings can be mounted on a cylindrical shaft at low cost. Adapter sleeves are preferred here because no further shaft machining is required. Rolling bearing housings are often used to maintain simple mounting of the rolling bearing outer ring and to reduce the design and costs.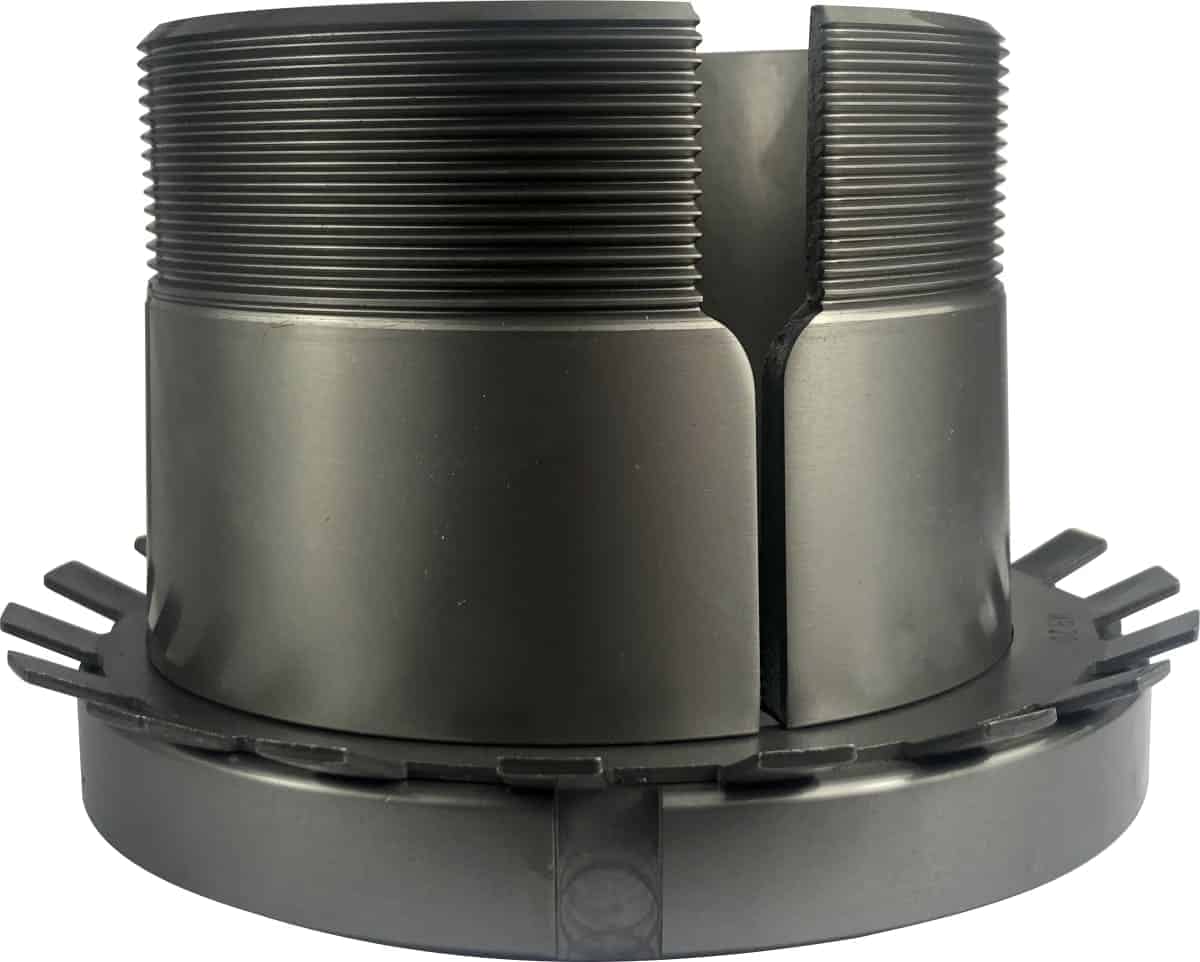 Adapter sleeves
Adapter sleeves are used to fasten rolling bearings to a shaft. They consist of a tapered metal sleeve, a locking plate and a locknut. For this purpose, the inner ring of the bearing has a tapered bore.
Mounting a bearing with the help of an adapter sleeve is a non-positive connection in which the inner ring of the bearing takes on the function of a ring spring and presses the slotted adapter sleeve onto the shaft. At the same time, the clamping sleeve adjusts the internal clearance of the rolling bearing. A hook spanner is used for tensioning.
Another feature of adapter sleeves is that they are easy to fit and do not need to be additionally secured on the shaft. If the mounting of the bearings takes place on a smooth shaft, this is possible at any point. If stepped shafts are used in combination with a support ring, an exact axial fixing of the bearing is possible.
Adapter sleeves are also used in toolmaking. They ensure precise and reliable clamping of finger cutters or similar tools in milling machines and other machine tools. Clamping sleeves in toolmaking have an external thread and a cone on the other side. The sleeve is longitudinally slotted at three points.
Withdrawal sleeves
Withdrawal sleeves are designed for mounting bearings with a tapered bore on stepped shafts with a cylindrical seat. Accordingly, they have a cylindrical bore and a tapered outer surface. In contrast from adapter sleeves, withdrawal sleeves are only suitable for being pushed under the bearing. The thread for screwing on a locknut takes over the function of the locking element, which is located on the larger cone diameter. The withdrawal sleeve is pressed into the bearing bore with the bearing resting against a fixed contact, such as a shaft shoulder. It is secured to the shaft with a shaft nut or end washer. However, shaft nuts are not included with withdrawal sleeves and must be ordered separately.
In addition, drawing the bearing onto the sleeve reduces bearing clearance and creates a tight fit. As the bearing size increases, the press-on force to be produced also increases continuously. In order to reduce the frictional force between the fitting surfaces to be pushed, the withdrawal sleeves are designed with two hydraulic connections on the threaded side from a sleeve bore of 140mm.
Shaft nuts
Shaft nuts are used when bearings need to be secured on a shaft. They are also suitable for securing bearings with a tapered bore on tapered shaft journals and adapter sleeves. In addition, shaft nuts make it easier to remove bearings on withdrawal sleeves. Shaft nuts are often used to secure gears, tension rollers and other machine parts on the shaft.
Shaft nuts must be secured against possible loosening on the shaft. This can be done with a special locking element that engages in a groove in the shaft or the clamping sleeve, or with a locking element that is integrated directly into the shaft nut. As locking elements, locking plates, clamping pieces or grub screws can prevent unwanted loosening. Versions with a clamping piece or clamping pin often represent more cost-effective overall solutions, as no groove is required in the shaft. Precision shaft nuts require a high degree of axial runout.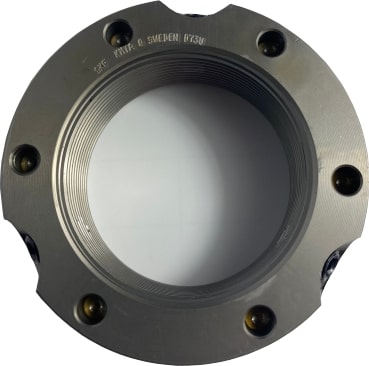 PACH Systems offers you a wide product range of different rolling bearing accessories. For this purpose, we work together with our long-standing partners. Please let us know your requirements via our contact form. We will be happy to provide you with a non-binding offer or contact you to discuss the details.